The Voyager Industries engineering and production team recently completed an enclosed trailer's interior project for the Douglas County Water Rescue and Recovery Team.  Members of the team are employees of the Douglas County Sheriff's Office who are trained in providing assistance for water-related emergencies. Boating accidents, drowning victims, and vehicles through the ice account for the majority of their calls, however, the team is also trained for evidence recovery, thin ice, and surface rescue.
In 2021, the Douglas County Water Rescue and Recovery Team decided it was time for a new trailer to store their equipment in.  They wanted their new trailer to provide a sturdy storage solution that was designed to fit their unique equipment and they really wanted the interior to be made of aluminum and water-resistant materials.  Being constructed with aluminum meant that it would create a lightweight alternative over wood, which is what their previous 2006 trailer's interior was constructed with.  Another reason they were interested in having their new trailer's interior constructed with aluminum is that it is a metal that does not rust.
Deputy Sheriff, Art Vinson has been on the dive team for many years.  He immediately thought to reach out to our team, because of our experience manufacturing aluminum trailers and aluminum framed ice houses.  He reached out to both Gary Suckow, the founder and owner of Voyager Industries as well as Trevor Balbach, our engineering manager, inquiring if this was a project the Voyager Industries team could help them with.  Our experience in manufacturing aluminum Bear Track Trailers™ as well aluminum-framed Yetti Fish Houses™, meant building with aluminum and working with trailers was nothing new to our team.  However, finishing the interior of an enclosed trailer to fit the specifications of their unique needs was a new challenge and our team was excited to it take on!  After a few meetings to discuss the dive team's must-haves for the trailer, our team set out to design and build a trailer that would exceed their expectations.
In only a few months of planning, designing and construction, the trailer was completed and ready for duty!  From the designing process to completion, Art mentioned that working with our engineering and production team was extremely easy and was surprisingly pretty fun.  He wanted to send out a huge thank you on behalf of his team to the Voyager team.  A couple of the lead team members on the project were Chris Vanderweyst, and Nick Thoennes.  Chris did a great job translating their needs to paper and assisting them through the process.  Chris is a firefighter and has experience using Mustang suits, SCBA, and other rescue equipment in the past which helped him understand the key characteristics of the team's design needs.  Nick Thoennes worked closely with Chris in choosing materials and completed most of the interior construction projects.  Nick works on constructing many of the internal research and development projects for the engineering team at Voyager Industries.  We are proud to be a team that is continuously impressing our clients by providing great communication and exceeding their expectations.
Below is a photo of the completed project as the door closed and it left our research and development campus.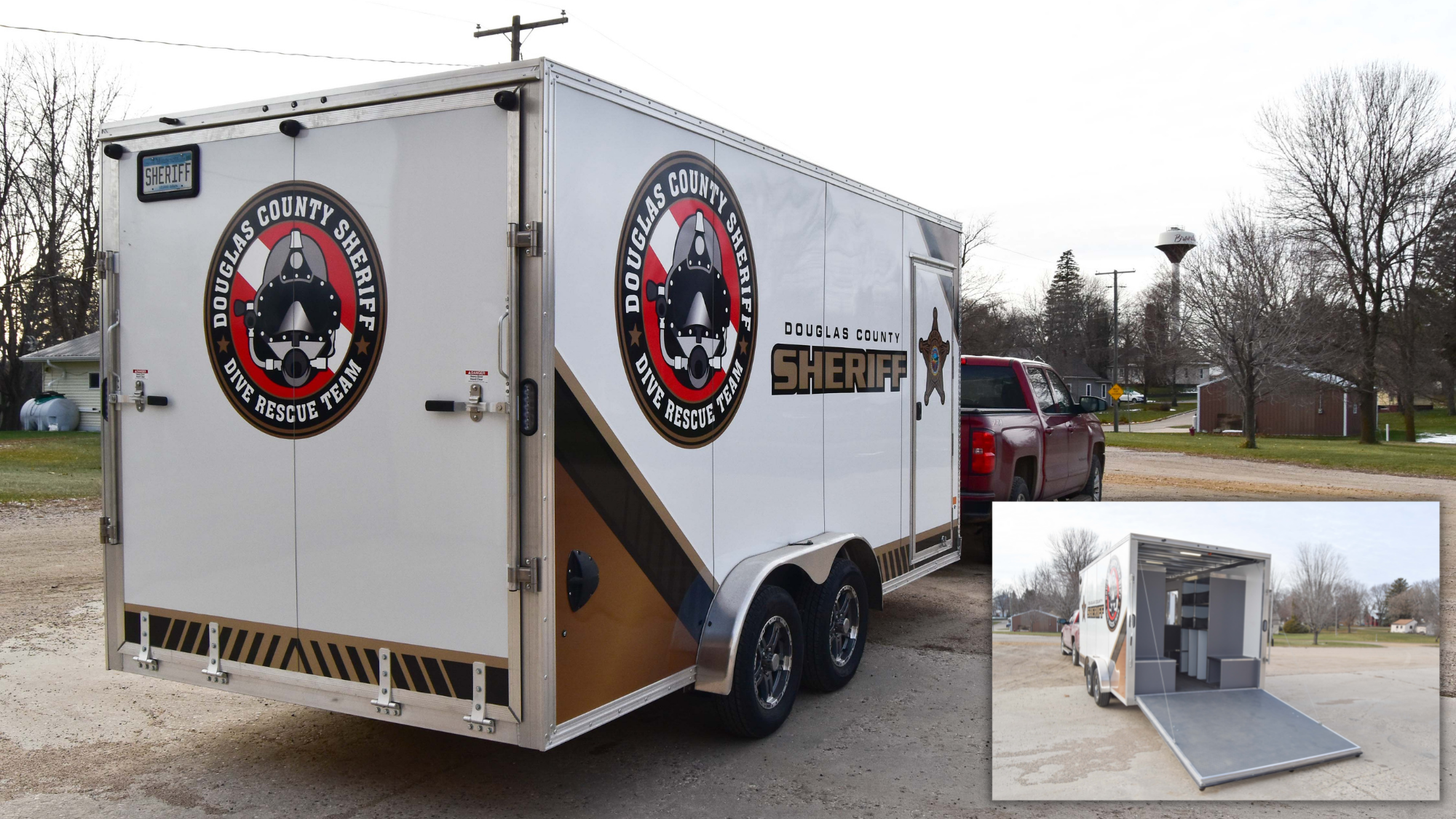 Recently Art Vinson walked us through their stocked dive trailer and shared how the Douglas County dive team's equipment is now safety stored and organized.  Having the gear organized for a dozen team members and readily accessible for emergency calls has been providing peace of mind for the team this winter season.  "Having the interior built with aluminum, as well as the other interior weather and water proof material that the Voyager Industries team used, has made our prep work and clean up processes so much easier!"  Said Art.
You can see how efficiently they were able to load up all their gear in this photo below.
Some of key features that the team requested are featured in the photos below.  They include: customized holding racks to store their propane tanks, easy to access storage compartments for their gear, as well as space to hang up to 10+ Mustang survival suits, which are specifically for thin ice rescues because of their buoyancy and insulation.  One feature that was requested posed an interesting challenge: creating custom walls strong enough to hang their heavy gear securely.  Stability of their gear during transport has always been a concern in the past, but that is no longer a worry.  They have already used the trailer several times for training sessions and have been very pleased with having customized storage compartments to secure their gear safely in transport.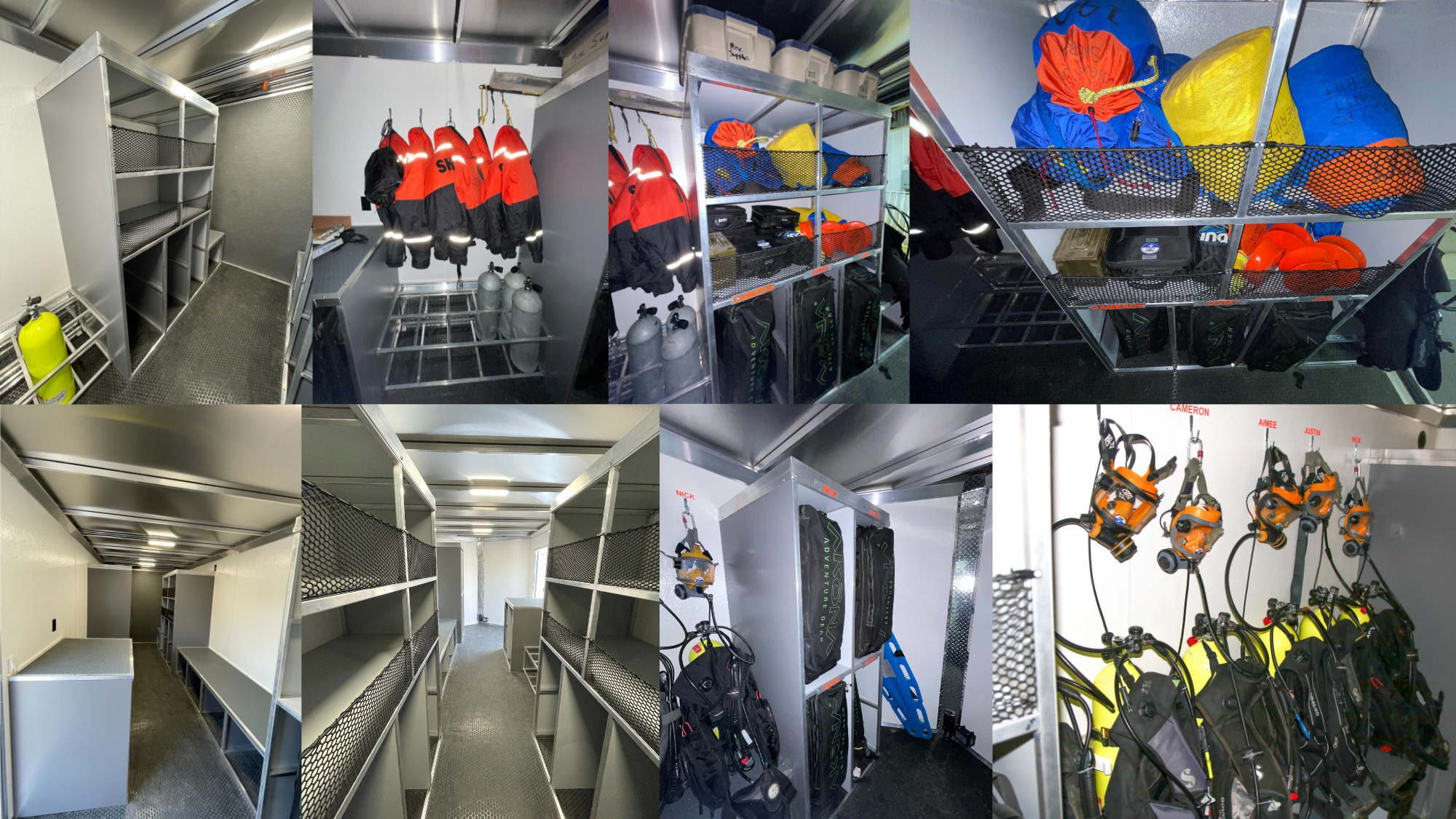 While most of their training days are conducted outside, occasionally they attend indoor pool trainings, as well as traveling across the state to take scuba certifications.  With all search and rescue missions, time is of the essence. Emergency response to water-related emergencies can occur anytime and in all weather conditions, which is why continued training is extremely important, and being prepared to be on site quickly is critical.  They have already noticed how the trailers organization and ability to dry out quickly has allowed them to be readily prepared for their trainings and has shortened the teams post training cleanup.  In April 2022, the dive team was out on the ice providing rescue training to the Osakis, Minnesota Fire Department.  Below are some photos they shared of the dive team, which really showcases how much gear is needed for every team member they have to be suited up.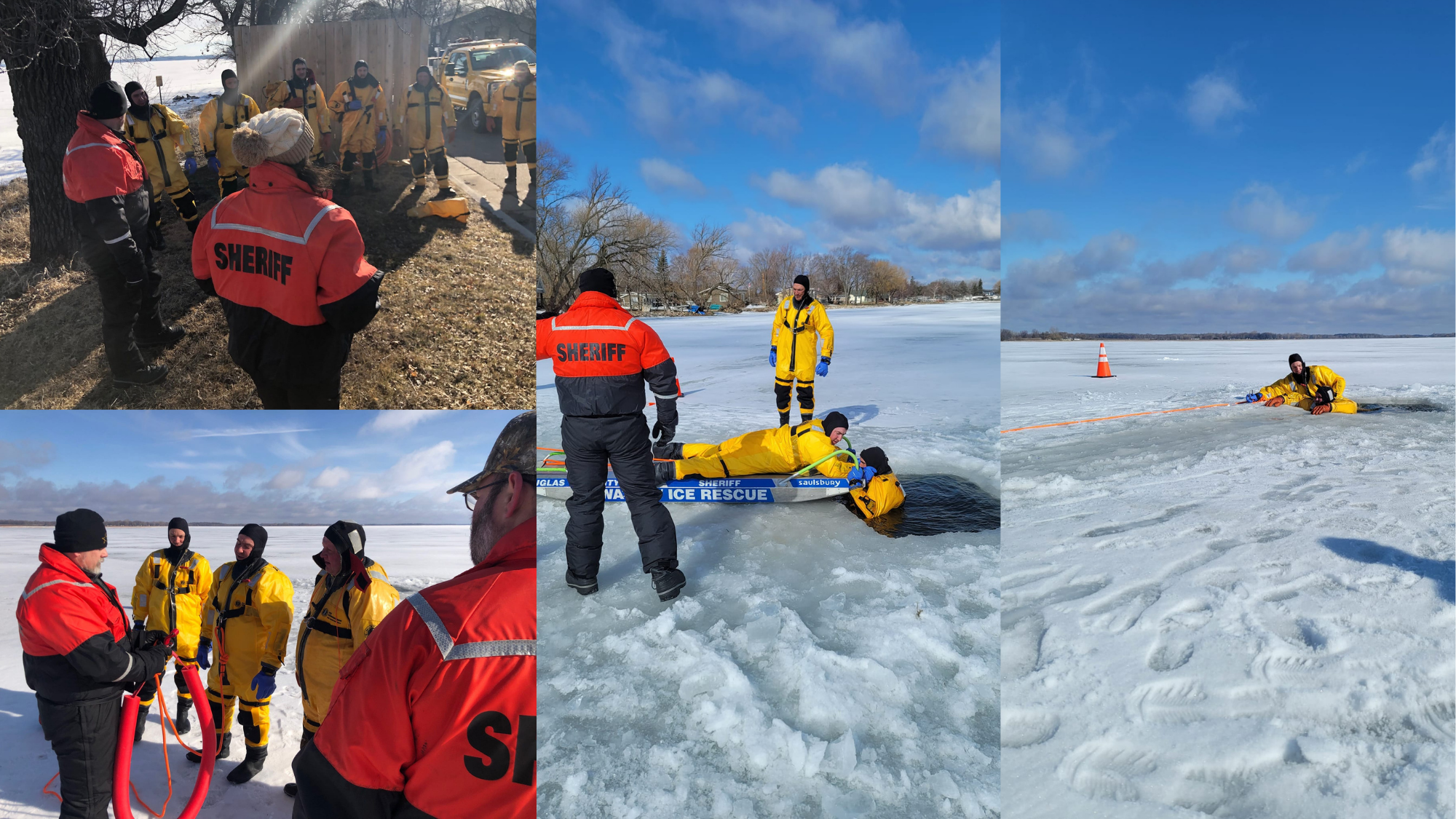 Photos taken by the Osakis, Minnesota Fire Department April, 2022.
Art and his team appreciate their newly finished trailer and see this as a long term solution to fit their team needs.  Our team appreciates the opportunity to be part of building out a resource for our local search team to be equipped to get where they need to be safely and prepared!
Sending out a huge thank you to all the team members involved in delivering a trailer that was even better than the dive team had anticipated, and to the Douglas County Sherriff's team for entrusting us with the project!
About Voyager Industries  
Voyager Industries, Inc. is a privately held company located in Brandon, MN.  Proprietary brands of Voyager Industries include Yetti Fish Houses™ Voyager Dock®, Black Line®, Titan Deck®, and Bear Track Trailers™.  Voyager Industries has 150+ employees, 130,000+ square feet of warehousing and manufacturing space, and five facilities located in Brandon, Evansville, Pine River, and Staples, Minnesota.